The Ghostwriter Max: Set It and Forget It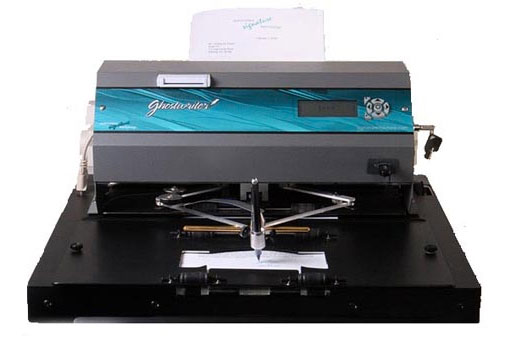 How do you make the nation's best autopen machine even better? The ghostwriter MAX-T Series does just this as it builds on the accomplishments of the workhorse Ghostwriter, and is our current line of automatic feed machines. this line is lightweight and compact, has a 20 by 20-inch footprint, and weighs only 45 pounds while adding the ability to sign large quantity of documents… and walk away. MAX-T machines require the purchase of a signature card.
Great for short-staffed offices, these machines automatically feed and sign documents and other items.  The paper catch tray is integrated and retractable for manual operation and storage.  The Ghostwriter Max-T uses any writing instrument such as ballpoint, felt-tip, permanent markers, fountain pens, calligraphy pens, pencils and even crayons!
This series features a computerized, dual channel, optical scanner which enables the machine to locate the correct signing location every time.  There is no need to batch documents based on length, as once set up, the machine will adjust it's signing position horizontally.  This model can also be operated manually for small signing jobs.
Max-T

4 digital pin security
Job Counter & System Counter
Auto-Lift Pen Adjustment
7″ x 4 1/2″ Writing Area
Automatic Pen Setup
Adjustable Pen Pressure
Adjustable Signing Speed
USB Flash Storage
Smart Card Storage
Auto-Rewrite Operation
Foot Pedal/Button Operation
Back-Lit LCD
Uses Any Writing Capability
Smart Paper Transport
Upgradeable to Writer Series
Installation and Training
Manual Signing
Page/Text Scanner

50 Data Log Security users

Signature Carousel

Variable Signature Sizing

Random Signature Sizing

Keyed Electric Lock

Protective Cover
Max-T2

4 digital pin security
Job Counter & System Counter
Auto-Lift Pen Adjustment
7″ x 4 1/2″ Writing Area
Automatic Pen Setup
Adjustable Pen Pressure
Adjustable Signing Speed
USB Flash Storage
Smart Card Storage
Auto-Rewrite Operation
Foot Pedal/Button Operation
Back-Lit LCD
Paper Sheet Feeder
Smart Paper Transport
Upgradeable to Writer Series
Installation and Training
Manual Signing
Page/Text Scanner
50 Data Log Security users
Signature Carousel
Variable Signature Sizing
Random Signature Sizing
Keyed Electric Lock
Protective Cover